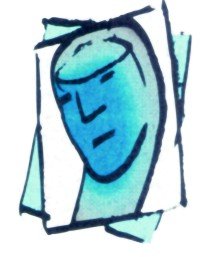 Some words are not replaceable.  There is no one word that can be used as a substitute.  One such word is anhedonia.  It is rarely used in casual conversation.  It is even rarely used by psychologists.   As the word was typed, the online dictionary underlined the word in red, indicating that it is not in their database.
The meaning is related to its Greek roots indicating a lack of happiness, yet this could be confused as sadness or a numb feeling.  Used in a clinical context, the word means a near inability to derive pleasure from activities once found enjoyable.  For example, a person who avidly collects stamps finds their books going unfilled, and a movie buff can't recollect the last time they went to the cinema.  If the person went on to other activities they found rewarding, then the dropping of old interests would not be considered anhedonic.  The term is meant to describe a loss of enjoyment that has not found another outlet for expression.  This symptom is highly indicative of a depressive disorder, and may be the least understood of the many depressive complaints.
Patients usually associate sadness with depression, and to a lesser extent, sleep and appetite disturbances.  It is rare that depressive people have insight into how the disorder affects their daily activities.  Typically close others observe the alteration of behavior, and the patient often voices non-depressive rationalizations for the change.  The subjective experience of sadness is generally more figural than a change in behavior.  Said another way, people are generally more aware of changes in feeling than behavior.  This becomes important when someone suffers with a depressive disorder, and they lack a subjective sense of sadness.  They may feel angry or numb, but the lack of subjective sadness prevents the person from identifying the problem as Major Depression.
It is not uncommon for a person to be labeled by their family and physician as depressed, and yet have no insight into what others see as obvious.  It is common for the person to have an "ah-ha" moment when a microscope is placed on their behavior.  For example, a middle-aged man complained that his family and doctors continually labeling him as depressed, yet he didn't feel particularly sad-let alone suicidal.  We discussed his daily activities and how they may have changed over the past year.  Subsequently, the man identified a significant loss of interest in professional sports and cooking.  He became aware of his loss of interest in activities that had given him the greatest enjoyment.  Within six months of accepting treatment, the man was again enjoying sports and cooking.  The symptom of anhedonia often serves as an excellent marker of clinical progress.
Anhedonia is a very important symptom of depression because it has little overlap with other psychological disorders.  The depressive phase of Bipolar Disorder and Schizophrenia are two areas of overlap.  Since the anhedonia only occurs during the depressive phase of Bipolar Disorder, it is still valuable in ruling out other diagnoses.  Anhedonia is not a prominent symptom of schizophrenia, and could easily be thought of as a reaction to the auditory and visual hallucinations.  Not so much a direct reaction as a depressive reaction to the effect of the delusions and hallucinations on social relationships.  It is likely that anhedonia has a much greater overlap with medical conditions, since many physical illnesses can impair a person to the point it is difficult or impossible to engage in "normal" activities.
Anhedonia is not just a nifty word to impress others at a cocktail party.  It is a word that often correctly classifies people as depressed who are suffering without insight.  It is a symptom that has little overlap with other psychological disorders, such that it is a significant help in making a correct diagnosis.  A prospective patient needs to rule out medical conditions that lead to chronic fatigue and low motivation.  If this person is deemed physically healthy, yet continues to suffer with a global loss of interest, a trip to the psychologist will help rule out a Mood Disorder.